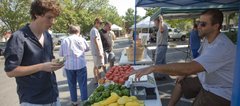 Originally published April 30, 2012 at 05:02p.m., updated May 1, 2012 at 10:30a.m.
For those of you who tell the changing of the seasons by the sun dial known as the Lawrence Farmers' Market — summer's grand entrance is scheduled for this weekend.
Saturday is the market's "grand opening" — it has been enjoying a "soft" opening since April 14 —and along with it comes plenty of produce, meats, cheeses, eggs, plants, baked goods, crafts and more goodies than four hours on a Saturday has an right to have. This week also marks the beginning of the organization's weekday markets (from 4 to 6 on Tuesdays and Thursdays, see box for locations) and the start of the time of year when local vendors really start churning out a plethora of products.
To celebrate the grand opening and all the great local-to-Lawrence products that come along with it, new market coordinator Pam Bramlett has plenty of fun planned Saturday. Included in the celebratory festivities is a chef demonstration featuring Pachamama's executive chef and proprietor Ken Baker at 10 a.m. And for those little ones with stars in their eyes, Bramlett and vendor Amy Albright of Vinland Valley Nursery have coordinated with the Lawrence Arts Center to put together creative and informative play for children from 8 a.m. to 10 a.m.
"Summer youth theater auditions are Sunday, so we we're advertising that people can bring their kids and maybe get some pointers on how to prepare a one-minute monologue and then 16 bars of something from a Broadway musical," says Albright, who happens to be the arts center's marketing and graphics director. "So, (a center teacher) will be here with hopefully a couple of other people to help the kids prepare for that, because it can be a little daunting if you've never done it before."
Even after the auditions, visiting kids should have something special to do weekly at the market, as the arts center, the market and Albright have been in talks for the center to provide special children's activities each Saturday.
"Every week we're going to try to have activities for the kids and I'm not talking sidewalk chalk and crayons, I'm talking really fun, creative stuff," Bramlett says. "We're really excited about that."
Bramlett is also excited about the chance to change up a lot of things with the market, as well as to continue some of the really popular activities, including the market's salsa festival and apple taste-testing events. She says the demonstration by a well-known local food lover like Baker is just the tip of the taste-testing and demonstrating iceberg for the foodies out there.
"We have six other chefs that want to come out and do demos at the market. We're trying to get more activities and events," says Bramlett, who has a herb farm in Baldwin.
She's also hoping to add a few popular events from the playbook of the market she formerly worked for, the Brookside Farmer's Market in Kansas City, Mo.
Among the added activities and showcases Baldwin says she's trying to add are more musical performances — Kansas City bands already have asked to participate — as well as presentations and activities from the Douglas County Extension's Master Gardeners Program. On June 2, master gardeners will be on hand to answer questions, and Vision, EBT and SNAP card holders will be able to purchase produce with their cards.
Until all those activities are lined up, the rest of the market schedule is hush-hush, but Albright has the green light to preview at least one event for market goers that is sure to produce fridge door-worthy pictures Lawrence-wide.
"My daughter's in the ballet theater and those girls and the jazz company are going to come over and do dance stuff. I think they're going to bring the ballet barres so they can get the dads out here on the barre," she says, laughing. "It'll be a good photo op."