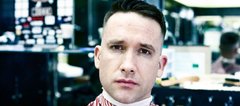 Jamie Stewart wraps up his conversation politely with the sentiment "I hope I wasn't too crabby."
As the frontman and constant of the brooding, experimental and deeply personal Xiu Xiu, he's a bit famous for not exactly being a ray of sunshine. But with music that addresses topics from his father's suicide to friends coping with bulimia, his artful addresses to life's darker issues have gained him a steady career and critical acclaim.
Ahead of his Tuesday night show with Dirty Beaches at the Jackpot ($10 for 21+; $12 for 18+) he spoke with Lawrence.com about his music, his depression and how the two help each other.
Alex Garrison: "Always" is your tenth album in as many years. How would you say you've progressed, or how do you feel about "Always" in relation to the progression of Xiu Xiu?
Jamie Stewart: I'm really the worst person on earth to answer this. I don't have any objectivity on this at all. I don't think of the records as being separate, I just think of all Xiu Xiu songs as being a big, seemingly endless mass of songs.
AG: How so? You just continually work on songs? Are you always working to process through things?
JS: There's not a break in working on them. It's a continuous process. And all of the records are a documentation of my family's life and the political topics that seem have some resonance for people in the band. I think because the documentation centers around a finite group of people — though the musical approaches are different and vary — it's about what's going on in those people's lives. The concepts behind, the way in which the songs are approached, the focus tends to remain — I wouldn't say constant, but pretty focused. I guess we have to make records because that's the way music is organized but if it was somehow feasible to do it, I imagine Xiu Xiu putting out some 200-song record — that would seem like a more a complete way of doing it — a complete way to represent what the band is trying to do … That sounds insane and incredibly pretentious. I can't believe I actually said that.
AG: I understand what you're saying. Xiu Xiu's lyrical material is so often so personal and dark. Is it difficult to express those sentiments, or is something you need to get through, to get it all out, as it were?
JS: Largely no, it's not difficult – it's the point of the band and we've been at it so long, I'm used to being in that space. Certainly, I wouldn't say that it's easy and it's definitely not fun or enjoyable, but after having done it for 10 years, I've come to acclimate to that process. That said, there are a few songs that I just cannot deal with playing anymore. There's one on the new record that we toured with for about a year before recording — if I never have to focus on that topic again, it'd probably make my life a little better.
AG: If it doesn't make your life better, why do it? I guess it's kind of like saying, if it's not fun, why do it, but I suppose the not-fun things, they perhaps make better art?
JS: There's a lot of other reasons to do something than just for fun. I certainly find it rewarding. It makes it possible for me to organize my emotional life. It makes it easier to process the super negative feelings I experience and attempts to give some meaning to the negative events that could just become soul-crushing. It some ways, it's a lot more practical … I would quite literally lose my mind and have no idea how to deal with all the things that my family has been faced with or the political situations that have been present. I don't deal with stress very well. Blah, blah, blah … like everyone else on earth. I have serious problems with depression. Without being too melodramatic, my music makes it possible to make it through the day.
AG: So it sounds like the emotional rawness of Xiu Xiu helps you, like you said, organize your emotional life. How did you get started with that? Was it always a need to make art to work through depression?
JS: Yeah. In the beginning, we chose to always write about real subjects and always try to be as honest as possible because there were other bands and composers that were doing that that meant a lot to us. The music that meant a lot to us were doing that, so by reduction, it'd make sense that if our band approached things in that way, it could mean that to other people. I certainly couldn't say definitively if people get that from us, but it's why we started playing in the first place.
AG: So who influenced you? And how exactly?
JS: The way they approached music ended up defining the way we approach music, especially in the beginning. It was mainly Shostakovich and a 70s and 80 composer, George Crumb, and they both wrote about their experiences, Shostakovich in World War II and Crumb in the Vietnam War. And then, quite obviously, The Smiths and Joy Division.
AG: You've gone through many changes in your 10 years as Xiu Xiu with who you play and write with. Is there a reason for that? And how have you dealt with it?
JS: Mostly, it's a pain in the ass. Most of the people who have been in the band, I really loved playing with. There have been a few that I had to fire because they sucked musically and were shitty people. But, by and large, the people I've had the opportunity to play with have been and are incredibly brilliant. The upside of losing someone is the chance to work with someone new. It's always exciting to get to know another person's set of musical philosophy and see how that could potentially expand what the band could be. It's one of the reasons that I think we've been able to be around for 10 years, because there's been a lot of new ideas coming in all of the time. But it's not all loss. Chez Smith, and Greg Saunier (of Deerhoof) has worked with me for a long time. And (current bandmate) Angela Seo has been since 2006. People come and go, but people come back sometimes, too.
AG: So, we've talked about how your music helps you, but do you think that it touches on nerves of your listeners? Do you feel like other people have gone through those dark times, and that's what's appealing about Xiu Xiu – the catharsis?
JS: I have no idea if this would be attractive to anyone. But yes, really, I think there's truth in that. We just try to be honest.
AG: What can we expect from your live show?
JS: What I would say is that, every night we try to do our best every night and have it be the best it can be, whether it's in New York or some tiny town in Texas.
AG: You mentioned earlier that you try to work political issues into your music. How is that different from writing from emotional experience?
JS: It's not any different than writing about something personal. There are things that have happened to fellow humans that, even though I don't know them or could ever really understand their situation, it can be as moving and as disturbing as something happening to someone I know and care about. The emotional aspect is similar. It's about channeling things that affect me, that affect the decaying and ridiculous planet we all live on.