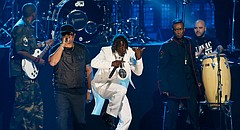 The 2016 Free State Festival will feature a free outdoor concert by hip-hop group Public Enemy, led by artists Chuck D and Flavor Flav.
Organizers on Wednesday announced the event will take place Saturday, June 25, outside the Lawrence Arts Center on New Hampshire Street, between Ninth and 10th streets. Gates will open at 6:30 p.m.
George Clinton and Parliament Funkadelic performed to a large crowd during a similar outdoor concert during the 2015 festival.
Public Enemy has been an active force in the hip-hop genre for nearly 30 years, beginning with the group's 1987 debut album, "Yo! Bum Rush the Show," which Rolling Stone described as heralding "hip-hop's great leap forward."
Their sophomore effort, 1988's "It Takes a Nation of Millions to Hold Us Back," was included in the New York Times' list of the "25 Most Significant Albums of the Last Century." Rolling Stone dubbed "Fight the Power," the group's signature song, "the ultimate anti-establishment rallying cry," and director Spike Lee used the track prominently in his Oscar-nominated classic "Do the Right Thing."
In 2013, after releasing albums steadily over the last three decades, Public Enemy was inducted into the Rock and Roll Hall of Fame. Their 13th studio album, "Man Plans God Laughs," dropped last year.
Comedian Maria Bamford and "Radiolab" founder and co-host Jad Abumrad will be featured presenters at the third annual festival, which runs from June 20 to June 25. The complete festival schedule will be released May 1.