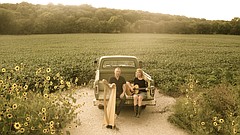 In Ireland, where acclaimed harpist Cormac De Barra grew up, Christmas is a time for families and loved ones to come together.

"No matter where you are, you drop everything and make it home for Christmas Eve or Christmas Day," De Barra, an internationally touring musician based primarily in Dublin, says of the holiday tradition he and fellow Irishmen hold dearest.
This week, before flying back to Dublin in time for the main event, De Barra will celebrate Christmas a little early — in Lawrence, of all places. On Wednesday and Thursday, he'll join local singer-songwriter Ashley Davis for her annual holiday concert at the Lied Center, 1600 Stewart Drive.
Slated for 7:30 p.m. on both days, the show has become something of a wintertime tradition, not only for Davis' Lawrence fans, but for De Barra as well. Past cycles have featured secular tunes as well as traditional carols and contemporary Christmas songs.
"Ashley Davis and Friends: A Celtic Christmas" will be his sixth year lending his musical talents on harp to the annual show.
"It's kind of like a homecoming, in a way," De Barra says of the Midwestern warmth and generosity that he's found, particularly with the community's support of local musicians, in Lawrence.
"It's a lovely experience, and that's why I keep going back, because the more times you do it, the more people you meet over and over again," he says.
There's also the draw of Davis herself, who studied Celtic music in Ireland — racking up international acclaim, including a "Today Show" nod, and gigs in the process — before moving back to her hometown of Lawrence a few years ago. Her Kansas roots remain an influence musically, as do the musical traditions of the Appalachian Mountains and, of course, Ireland and Scotland.
This week's concerts, De Barra promises, will feature a mix of songs from Davis' 2015 album "The Christmas Sessions" (itself a smattering of peaceful, pared-down takes on retro classics and centuries-old carols) and 2012's "Songs of the Celtic Winter," which offers a more holistically seasonal selection that extends beyond Christmas.
"You'll get all the Christmas songs you're familiar with, and you get the Ashley touch and the harp," De Barra says. Come to think of it, "I get to put my touch on the Christmas stuff, too," the native Dubliner adds a moment later, with a laugh.
Davis, whom De Barra calls a dear friend as well as a professional peer, has that same gift. That's partly why the annual Lied Center holiday show has become such an enduring tradition over the last six years, De Barra says.
"She brings them on a journey. She's a great storyteller, too," he says of his longtime collaborator. "She's cultivated an audience, and they follow, because they know every time they come to a show, it's going to be a new story."
Last year, he and Davis added a second concert date due to popular demand and sold out tickets for both nights. To see Lawrencians embrace traditional Celtic music, as well as the genre-bending tunes Davis has pioneered throughout her career, has been truly "uplifting," De Barra says.
"When we're on stage together," he adds, there's a sense of familiarity between the audience and the musicians that feels special. Especially in Davis' hometown of Lawrence, where holiday concert attendees don't feel shy about sharing a story or a joke with performers during the show.
"When audiences see the people on stage enjoying it properly, they come away with a different level of enjoyment themselves, because they are part of something that they're involved in," De Barra says.