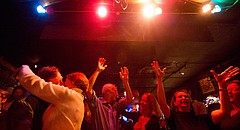 Lawrencians will find no shortage of entertainment this New Year's Eve, from afternoon screenings of "Willy Wonka and the Chocolate Factory" to The Crumpletons' annual early New Year's show at The Jazzhaus to late-night karaoke and champagne toasts at the Yacht Club.
We've rounded up a few of those happenings here, but you always can scan the Journal-World's Datebook for more ideas. Happy New Year, readers!
"Willy Wonka and the Chocolate Factory" at Liberty Hall
2 and 4:30 p.m., Liberty Hall, 644 Massachusetts St.
Relive sweet childhood memories (or that terrifyingly trippy boat scene) at Saturday afternoon's showings of "Willy Wonka and the Chocolate Factory." Liberty Hall is screening the 1971 classic as an escapist wrap-up to "this difficult year" that, among other tragedies, marked the passing of Mr. Wonka himself, legendary performer Gene Wilder.
Admission is $8, or $7 for senior citizens and children under 12.
Live music at The Jazzhaus
7 p.m. onward, The Jazzhaus, 926 Massachusetts St.
Whether you're a night owl or an early bird, The Jazzhaus has you covered in the way of New Year's Eve festivities this Saturday.
The fun starts at 7 p.m., with Jazzhaus favorites The Crumpletons and their covers of 1960s-era classics. Local funk-soul-R&B; outfit The Band That Saved The World will take the stage starting at 10:30 p.m. amid party favors and cocktails, among other New Year's Eve elements, finally shutting down for the night around 1:30 a.m.
Admission is $10 per show.
Karaoke New Year's Eve Party at the Yacht Club
9 p.m. to 2 a.m., Yacht Club, 530 Wisconsin St.
The townie joint is celebrating the New Year in style with an evening of hourly giveaways, a complimentary champagne toast at midnight and more — presumably, karaoke will also be involved.
No cover charge here.
New Year's Eve at Slow Ride
7:30 p.m. to 2 a.m., Slow Ride Roadhouse, 1350 N. Third St.
Ring in the New Year at North Lawrence's favorite (only?) biker bar with an evening of food, fun, champagne and party favors. Live music, courtesy of the Ronni Ward Band, will be on hand from 9 p.m. to 1 a.m.

Admission is $20 per person and includes all the cool stuff listed above.
NYE Party! at The Bottleneck
9 p.m. to 2 a.m., The Bottleneck, 737 New Hampshire St.
Wichita-proud bluegrass rockers Split Lip Rayfield are celebrating the dawn of 2017 — and the release of their new album — at their traditional New Year's Eve bash, once again hosted by The Bottleneck.
Tickets for this all-ages show range from $23 to $26. Get yours online at www.thebottlenecklive.com or in person at The Bottleneck.