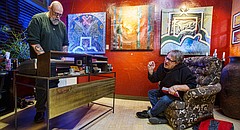 There is a famous saying about the 1960s — variously attributed to Robin Williams, Grace Slick, Paul Kantner and Dennis Hopper, among others — that reads something along the lines of, "If you remember the decade, you weren't really there at all."
But for Marty Olson and Steve Wilson, that period was really the late '70s and early '80s, when their Lawrence-based rock band, Thumbs, was in its heyday.
"XTC, Iggy Pop, the Sir Douglas Quintet, The Police… It all fades into a blur," says Wilson, rattling off the several high-profile acts Thumbs opened for at its peak, adding a bit later, "I remember the general contour and feeling of the experience, but details… who knows?"
"There's a lot of hazy stuff," agrees Olson, who admits to reminiscing a bit more often these days, with Thumbs' long-awaited induction into the Kansas Music Hall of Fame slated for Saturday at Liberty Hall.
If you go
What: Kansas Music Hall of Fame induction ceremony
Where: Liberty Hall, 644 Massachusetts St.
When: Saturday, March 5, at 7 p.m.
Cost: General admission tickets are $25 and can be purchased online through Ticketmaster or at the Liberty Hall box office.
The ceremony will find founding members Wilson (lead vocals) and Olson (organist/one-time bassist) reuniting with their former bandmates — at least in a professional setting — for the first time in some 30-odd years. They're the only two still living in Lawrence, though Olson and Wilson have remained close with original members John Odell, Kevin Smith and Mark Aronszajn (now scattered to New Orleans, Atlanta and Seattle, respectively) over the years.
All but Smith will return to Lawrence this week in advance of the induction.
"It's exciting," Olson, who has owned and operated Do's Deluxe salon in East Lawrence for approximately 40 years now, says of the reunion. "There were a lot of periods in the last 35 years where I thought there's no way we would ever do it. Steve and I would talk about it periodically, 'You ready for the reunion tour yet?' It's something we would joke about."
The prospect of playing once again with Thumbs has since become very real, especially to Olson, who occasionally finds himself turning on his old keyboard only to mess around for "about 30 seconds" before turning the thing off again.
Unlike Wilson, who still performs locally with The Mahoots, Olson walked away from a career in music to pursue visual art (some of his most recent paintings are now on display at Do's Deluxe, 416 E. Ninth St.) and tend to his salon day job right around the time that he and Wilson now recognize as the band's peak.
Thumbs, which formed in 1975 — or sometime around then, though Wilson, 63, and Olson, 64, can't be too sure — got its start playing dances at Hashinger Hall and gigs at intimate venues like Off the Wall Hall, which now houses The Bottleneck.
At the time, Thumbs was a bit of an anomaly within the Lawrence music scene. Country, bluegrass, even reggae bands — specifically those who made their mark playing covers — were popular. A "straight-up" rock-and-roll outfit inspired by the punk movement, "over-produced, shallow" arena bands and the "nasty boy" image of the Rolling Stones seemed almost foreign to area audiences, Olson and Wilson now recall.
"I would venture to say, really, that the kind of alternative or indie scene that sprang up in Lawrence in the early '80s… honestly, that kind of started with us," Wilson says. "We were the first loud, aggressive rock band playing our own material to kind of get a beachhead for everybody else and open the door for other people to come through."
Olson, who describes his stage presence as "Keith Richards in Dom DeLuise's body," was inspired by the gender-bending style of David Bowie, and would sometimes break from Thumbs' mostly original repertoire — and his keyboard — to sing a rousing rendition of Bowie's "Rebel Rebel."
Wearing a large, black wig, Olson enjoyed jumping off the stage and running into the audience, his signature coach whip in hand, during the song's lengthy drum solo.
Wilson, on the other hand, took his cues from Mick Jagger and the New York Dolls' David Johansen. Thumbs' members were local rock stars — or, as Olson puts it, "I was living as hard a life as you could possibly live in Lawrence," recounting a certain Quaalude-induced mishap during a Halloween show at Off the Hall Wall.

Within a few years, the little "afternoon band" from Lawrence had garnered a review of its self-titled debut album in Rolling Stone magazine.
Olson can still quote the May 29, 1980, blurb, almost verbatim, nearly 35 years later. "We were almost slack-jawed," he said of seeing Thumbs in Rolling Stone. The review, fortunately, was positive.
Wilson, a longtime freelance music journalist, acknowledges the review as a "breakthrough" for the band.
"Our second album, 'No Price on Earth,' got as much college radio play, as much ink, as we called it in those days, from critics. The one thing that was different was that that record did not get reviewed in Rolling Stone," says Wilson, who now works library media assistant at his old high school. "I can tell you the difference in sales was substantial. I think that speaks to how visible and influential Rolling Stone was at the time."
Olson, overwhelmed by the simultaneous success of Thumbs and his fledgling salon, quit the band less than a year later. He doesn't regret it. These days, Olson spends most of his creative energy on visual art, which he's been able to pursue as a result of more lucrative endeavors like Do's Deluxe.
To put it all into perspective, Olson recalls opening for the (at that time) up-and-coming band The Police more than 30 years ago. They played at a small Kansas City club called One Block West.
"One year later, they were playing Madison Square Garden, but we were still playing Off the Wall Hall to our 75 devoted fans," says Olson, in his own way of "summing up" Thumbs' music legacy. "We did make a dent — a very little dent, but we did make a dent."
For years, Wilson says, he and his bandmates felt like "bridesmaids," watching other acts pass through the Kansas Music Hall of Fame while Thumbs remained on a sort of unofficial shortlist. But Wilson took it in stride. The honor wasn't something he wanted to campaign for.

"I kind of figured that our records — no pun intended — spoke for themselves, and eventually they (the Hall of Fame board) would go, 'Oh yeah, we gotta catch up with those guys,'" he says. "They did. And it's all good."