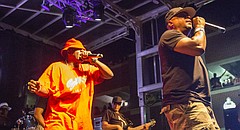 Public Enemy "brought the noise" to Lawrence Saturday night in an outdoor concert, closing out this year's Free State Festival.
Sarah Bishop, chief communications officer with the Lawrence Arts Center, gave an early crowd estimate of 7,500 people in attendance.
She said the hip-hop artists fit well into the festival's theme this year of activism through art.
"Public Enemy, of course, has been very active politically, advocating for civil rights and equality," Bishop said. "So we just felt like they were a perfect fit for the festival this year."
Shortly after taking the stage, Public Enemy announced the show was dedicated to the late Muhammad Ali.
Opening acts included Lincoln Marshall, the three DJs of Midnight Marauders, Ebony Tusks and Hearts of Darkness. Public Enemy took the stage around 10:30 p.m., to the crowd's relief, but kids of all ages stayed out past their bedtimes to experience the free show.
On Friday, the group celebrated the 25th anniversary of the release of "Bring the Noise," a collaboration with Anthrax that was one of the world's first combinations of rap and metal, according to an article on Public Enemy's website.