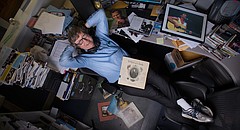 Institutions like West Side Folk, the popular Lawrence concert series set to end its run after 20-plus years later this month, don't become institutions overnight.
Since its unofficial launch in 1994, West Side Folk has hosted hundreds of concerts, bringing nationally recognized folk, bluegrass and old-time musicians such as Greg Brown, Tim O'Brien, Dougie MacLean, Martin Sexton and Lucy Kaplansky to Lawrence stages.

Still, Bob McWilliams, the local radio personality who founded West Side Folk with his wife — and with little experience in the world of concert bookings and promotions — more than two decades ago, maintains that it all "just happened."
"Well, there's a whole series of totally random events that kind of seemed to move toward this," begins McWilliams, admittedly a little frazzled after another hectic day (he'd just recovered his lost cell phone, thank goodness) at Kansas Public Radio.
If you go
What: West Side Folk's final concert, featuring Cheryl Wheeler
When: May 20 at 7:30 p.m.
Where: Unity Church, 900 Madeline Lane
Cost: Tickets are $25 and can be purchased at Mass Street Music, 1347 Massachusetts St., or at westsidefolk.org.
There, the sixtysomething hosts "Jazz in the Night" and "Trail Mix," a show much in the same vein as his beloved concert series (folk, bluegrass, Americana, alternative country and the like). When he's not in the studio, McWilliams — a Harvard-educated attorney who left law for radio years ago — teaches American history at Johnson County Community College. Lately, it's all become a bit much, which is why he's decided to end West Side Folk after all these years.
"It just seemed like the right time," McWilliams told the Journal-World last month. He'd been advised to cut down on stress because of a few "minor health issues," but reassures fans that he's OK.
As founder and artistic director, McWilliams has handled the artist bookings — and all that comes with that responsibility, which is a lot — since 1994, when he and his wife, Trish, hosted their first house concert for an obscure Australian singer-songwriter who was passing through town and needed a venue.
Their split-level home was "tiny," the kind of place a graduate student might rent, but the basement was roomy enough for the eight people who showed up. McWilliams was hooked.
A few months later, a then-unknown (at least outside of the East Coast folk circuit) singer-songwriter named Dar Williams played to an audience of 40 at the McWilliams home and later raved about the experience to her musician friends. West Side Folk, as it would soon be known, took off. Williams' encore concert, which happened to coincide with her ascent into the national folk consciousness, would be the series' first.
Kelley Hunt has performed for crowds of thousands at festival stages across the world. She's also appeared on NPR's "A Prairie Home Companion" six times, which is, presumably, a pretty big deal to the type of folks who frequent West Side Folk concerts. But the Lawrence-based blues musician always made time for her friend McWilliams over the years, performing in a handful of his concerts and enjoying quite a few as an audience member.
"The numbers don't matter. I think it has to do with the receptivity of the crowd and the focus on the music," she says of West Side Folk's intimate shows. "If people are there to listen, really listen, to what's going on, it's almost immaterial."
"You're feel like you're in on something very, very special," Hunt adds. "And it's been that way for years with West Side Folk."
The series has mostly stuck to small or nontraditional venues throughout its run, starting out at West Side Presbyterian Church (hence the name) before moving on to other houses of worship (Unity Church of Lawrence had become sort of a de facto home base in recent years) in addition to places like the Cider Gallery and the Lied Center Pavilion, which seats about 200 and hosts West Side Folk's "somewhat larger shows," McWilliams says.
"What I'm happy about is the fact that we started doing this with smaller singer-songwriters and bands — artists that were not going to fill big rooms had a place to play, and we could build them up," he explains, referring to musicians like Dar Williams, who would later go on to play Liberty Hall ("I had no sense of ownership — if Dar Williams is playing in Lawrence, I'm happy," McWilliams says) and eventually develop a greater fan base in the Midwest. "But there was nothing as far as the kind of music we've presented happening really anywhere in the area."
Since West Side Folk's arrival on the scene, similar projects have begun to crop up across northeast Kansas. Manhattan residents who attended the McWilliams' house concerts launched a concert series at the Manhattan Arts Center. Topeka's Last Minute Folk and Lenexa's Green Guitar Folk are more recent additions. Even Paola has "stuff going on" these days, McWilliams says.
There was a time, maybe 15 years ago, that West Side Folk might have staged 25 shows a year instead of the "8 or 9" that has become the norm recently. McWilliams, board members and West Side Folk's many, many volunteers "did fine," but ended up tapering back a bit. "Of course, we're completely tapering back now," McWilliams says, his words accented by a self-aware chuckle.
Trish McWilliams, who helped Bob launch the concert series in 1994, relocated to Madison, Wis., for a pharmaceutical research job soon after the couple received a Phoenix Award (the annual honor recognizes contributions to the Lawrence arts community) in 2006. They're separated now, says McWilliams, but still maintain a good relationship, though Trish isn't involved with West Side Folk anymore.
Emily Stangl, the McWilliams' daughter, moved away about a year later. It was the end, too, of her work with the concert series, which had really ended after West Side Folk moved out of her parents' basement and started picking up more volunteers.
But in the early years, Stangl, who now lives in Virginia with her husband and 2-year-old daughter, played a central role. At 32, she looks back wistfully on childhood memories of cutting tickets at Kinko's with her father and selling snacks during concert intermissions.
"I'm sure I took a lot of it for granted," she says of the experience "For me, the Lawrence music scene was West Side Folk, because that was the kind of music I was interested in. It's the music I grew up with and the music I still love."
Stangl didn't really grasp the significance of her parents' pet project — the one that she would enjoy, disinterestedly, as a preteen sitting atop the basement stairs during early concerts — until years later.
In college, she'd hear friends gush about Dar Williams' music, for example, and realize, "I totally know her — she's been in my house and we went out to Teller's after the concert." Years after hosting up-and-coming musicians at her parents' house (most stayed with the McWilliams instead of hotels), Stangl would hear the same artists on the radio at a coffee shop or during a shift at Trader Joe's. Greg Greenway, whom she'd met through West Side Folk, later sung at her wedding.
Many of these people are still friends of the family. The relationships forged over the last two decades have meant a lot to McWilliams, who attributes the concert series' longevity at least partially to the trust and mutual respect he's worked to develop with artists and the agents who represent them.
At last month's penultimate West Side Folk concert, Ellis Paul, one of the series' frequent returning artists, ended his performance with an impromptu song dedicated to McWilliams lovingly titled "Radio Bob."
"He's singing this and I'm just trying to not have the tears. It kind of hit, and I did have the tears," recalls McWilliams, who hopes to keep it together for the Cheryl Wheeler concert on May 20, West Side Folk's last. "It was tough on the Ellis Paul show, but I don't think Cheryl will ambush me like that."
McWilliams says he'd love to help stage house concerts in the future, if anyone's interested, and he's already in talks with other people — McWilliams isn't about to spearhead another series of West Side Folk's scale all by himself — regarding new projects.
"We planted the seeds in the area for this kind of stuff to happen, and I think that's good," he says. "And I'm confident that these kinds of artists will keep coming back to Lawrence."