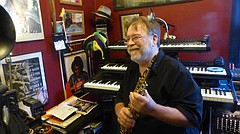 In a pinch-me moment of Caribe's decades-long presence in the Midwest music circuit, the reggae-Latin ensemble played at a party for industry big shots such as the Oakridge Boys and Roy Orbison.

It was glamorous, to be sure, founding member Gary Frager recalls now. But for Frager, who went by the stage name Willie Skate in his tenure as the band's trumpet-trombone-sax player, rubbing elbows with famous musicians wasn't the point.
"I think for us, we were most happy in a great big room with a whole bunch of people dancing. I think truly, the band was at its very best when propelled by the very act of getting together and playing," he says. "The more people, the better."
On the cusp of Caribe's upcoming induction into the Kansas Music Hall of Fame, slated for March 4 at Liberty Hall, 644 Massachusetts St., Frager is reminiscing about the band — and what it meant to him — a lot more these days.

He remembers sold-out, packed houses filled with eclectic mixes of college kids and Latinos who embraced the Lawrence-based Caribe's attempt at authentic salsa, calypso and reggae. He remembers the lively parties after every gig, where the band and its buddies would munch on crispy, fresh-from-the-fryer plantains.
He also remembers, perhaps more than anything else, the camaraderie of Caribe, where everyone felt like family. The outfit, which formed in 1980 out of the porch and kitchen (Frager didn't have a stand for his keyboard, so the stovetop was where the jamming would often take place) of the apartment he shared with fellow musician Vaughn Cowden, who became Caribe's keyboardist and one of its singers.
Other band members included vocalist Bunny Rodina (she also lent her skills on percussion and cuatro), Fernando Reynoso on conga and percussion, singer and drummer Bob Augelli, and Eric Goolsby on vocals and bass. Michael Helton, a local jack-of-all-trades who stepped in to fill Frager's shoes during a few years' hiatus, played the sax, flute and guitar. He sang, too. In Caribe, everyone juggled multiple roles.
"It was so different, and that's kind of what let us do it, 'cause there wasn't anybody else doing it," Frager says of Caribe's Latin-tinged sound, which remained an on-and-off presence around Lawrence and the region for some 20 years.
Caribe was lots of fun, Frager recalls, but not without its challenges. The strain of constantly being on the road, he says, took its toll on him. His wife of 30 years, Susan, was diagnosed with multiple sclerosis shortly after they wed, and he wanted to be home with her, supporting her.
The seedier aspects of being a touring musician, paired with his itch to return to his role as a "family man," eventually called Frager away from the band — and toward church.
For 15 years, Frager served as music director of Lawrence's Unity Church, a job he loved. Last week, he finally retired, spurred in part by his old friend and bandmate, Goolsby.
Goolsby, who now lives in Omaha, has been battling pancreatic cancer for four years now. When Frager visited him a few weeks back and offered to lend his horn talents for a recording Goolsby was working on, he realized that perhaps it was time for a change — in his career, in his calling.
He had hoped, by helping his ailing friend wrap up his latest project, that "just the thought of finishing" might buy Goolsby a few extra days. Or at least give his remaining days a sense of closure, of accomplishment.
"And because of that feeling, when I came home, I just said, 'Fifteen years is enough. I want to take my music, I want to do some things to soothe people's pain,'" Frager recalls.
Lately, he's been busy playing gigs with Lawrence's Kim and the Quake, also keeping up with an especially active and adorable Maine Coon kitten at the Lawrence home he shares with his wife and son.
He's not sure if Goolsby will make it to March's induction ceremony. He knows the band likely won't perform, but is instead opting to produce a video montage of TV appearances and performances over the years to screen at the ceremony.
"Everybody in the band's happy, excited about it," Frager says of the induction. "It's like a family, and we were together for a couple decades and then we kind of just drifted apart."
His hope, with the upcoming induction ceremony, is to bring that family together again.
In the meantime, Frager is grateful that he's still able to play — and share his music with the people and community he loves. Frager, now 62, says he's taking a page from the book of his late friend Clyde Bysom, who remained active in several Lawrence bands well into his 90s before passing away at 97 last year.
His horn, Frager says, keeps him healthy.

"So, to be able to still be out there playing after all this time, it's a gift," he says. "It is really, really a gift."