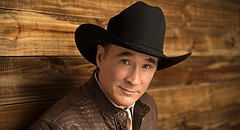 Last fall, singer-songwriter Clint Black dropped his first studio album in a decade. "On Purpose," which has earned mostly positive reviews since its release, marked a return to the spotlight for the award-winning country crooner (his many accolades include big wins from the Academy of Country Music and the Country Music Association) and occasional actor who first made a name for himself among genre peers Garth Brooks and Alan Jackson in the late 1980s.
On Saturday evening, he'll perform under the bright lights of the Lied Center stage, 1600 Stewart Drive. In the weeks leading up to his Lawrence visit, Black shared his thoughts on the current state of country music, among other things, with the Journal-World in an email exchange. (In the interest of preserving his voice for the big show, of course.)
Here's our slightly edited (for clarity) transcript of that interview:
You dropped your latest album — it was also your first studio album in 10 years — last fall. How have fans responded to the new songs while you've been on the road?
I've enjoyed good reaction to the new songs I'm doing live. I've mixed it up at different points in this tour and last year's tour and the favorites — live — seem to be: "Better and Worse," "Calling it News," "The Last Day" and of course, "You Still Get to Me," when [my wife] Lisa has been able to join me.
Speaking of the album, it's called "On Purpose." What's the meaning behind the name?
The title comes from a lyric in "Better and Worse." It really spoke to this project my career choices over all. I had the opportunity to join three different major record companies, if only I would let them "pick songs" from local writers and let them "have them produced" to sound the way they wanted.
But that's not why I'm here. It's not why I'm successful. I made it on my originality and I felt I had earned my place as a songwriter. On Purpose is what I intend to be.
One of the tracks, "You Still Get to Me," is a duet between you and your wife (actress Lisa Hartman Black). What's the trick to writing a love song that feels authentic but still manages to say something new on a well-worn topic?
It's a tough task, but largely I think it starts with being familiar with the great songs that came before. If you have the history of great songs in your head, you can avoid covering old ground. The task of being authentic is the easy part. In a love song about my marriage, if it doesn't ring true, it doesn't make the page.
In "Calling it News," you poke fun at today's 24-hour news cycle and blogging culture. What do you make of the media's role in the current election, now that we've got less than a month to go before November and you've had more than a year to ruminate on the song?
I think the media and the public become distracted by rhetoric and forget to look at the job our government is doing. If we paid as little attention to our own work and our own businesses as we do our bureaucrats and politicians, all of our personal efforts would fail. Accountability in government is a thing of fiction.
You were an admirer and friend of Merle Haggard, and even co-wrote a couple of songs with him before he passed earlier this year. What did you learn from the late country legend?
I learned at an early age that Haggard wrote most of his greatest songs. That made me want to be a songwriter and steeled my resolve when label execs tried to remove me as songwriter even after the success of my self-penned "Killin' Time" album.
Haggard was a great poet and an honest voice.
What do you miss most about him?
Knowing he was there.
There's been a lot written about the current state of country music, the main criticism being that the genre relies less on authentic storytelling as it did with artists like Haggard and Dolly Parton, to name a few, and more on buzzwords, gimmicks and what some call a "manufactured" sound. What's your take on that assessment?
There is some validity to that claim. Change is constant, and we're all guilty of clinging to the past, but country music has always grown its audience by collecting new fans and keeping the existing fans. I feel the targeting of the youth has driven a lot of longtime fans away.
Did you have any clue that country would evolve in its current direction when you started out in the '80s and early '90s?
Not in the beginning. But I did foresee the inclusion of rap and pop coming and lamented that. I'm not a fan of rap and there are some elements of pop that I feel are just cheap in terms of writing quality. Some will stand the test of time, but much of what is cheap about music and lyrics will not.
Any new artists out there we should be paying attention to?
I just caught Kacey Musgraves on "Austin City Limits" and was very impressed with her style, performance and the material. Also, checking out Chase Bryant. I'm trying to stay current but I spend most of my time either practicing and studying guitar, or being with the family and trying to force some wisdom into my teenager!
You've also tried your hand at acting several times over the years. Are there any roles on your bucket list?
I can't talk about anything I'm working toward but yes! I do have some projects I'm interested in pursuing and when this tour is over, I'll be in talks to make that happen.
What's next for you?
I'm looking forward to focusing on my family and doing some work around the house. I have a garage that needs some serious attention!