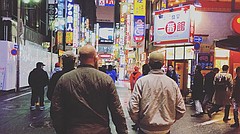 If the names Sam and Dan Billen ring a bell, it might be that you heard their music while popping around the Lawrence music scene at The Bottleneck or Jackpot Saloon in the early- to mid-2000s. But you've likely heard their music and not known it — and it may even have caused you to grab your wallet.
The Billen brothers and their Lawrence-based company Primary Color Music is now doing what their old band, The Billions, never quite could — get heard by the millions. The key has been making their music more commercial: They provide music for advertisements heard all over television and radio.
"The crazy thing is that with our band, The Billions, really in terms of the people who ever heard any of our songs, the reach was probably maybe 20,000, max," says Sam, 35.
"It's funny," adds Dan, 38. "(Now,) maybe almost everybody in the U.S. at one time has probably heard something that we've done. When you're in a band, it's all about your face and your ego, and now it's the opposite. It's like we're invisible."
But their clients, which include the likes of McDonald's, Wendy's, Cessna, H&R; Block, Dairy Queen and many others, are some of the most visible in America.
In 2013, Sam started the Lawrence commercial music business Primary Color Music, which initially began with just him picking up freelance work, composing music for various local advertisers. As his business grew nationally, he brought in Dan and eventually three other commercial composers, including Ryan Pinkston, who, in 2009, performed on the David Letterman Show with The Republic Tigers.
In a series of commercials for the Baconator sandwich at Wendy's that the company provided music for, adolescent strips of bacon confront various pressures and moments of temptation. The commercials, hilariously contrived, are as unforgettable as the anti-drug spots aimed at teens decades ago. So, as the two curious bacon buddies find an older brother's stash of "wood" under a bed, the heavily synthesized music carries a suspenseful moment of contemplation straight out of the '80s as the two bacon puppets ultimately decide against getting "smoked."
https://www.youtube.com/watch?v=-eB77TrG63k
Bacon burger spots and other such efforts have done more than expand Primary Color's business nationally. They've also taken the musicians overseas in a bit of a trans-Pacific partnership of their own. Sam, who studied Japanese at the University of Kansas and whose wife is Japanese, began cultivating business relationships in Japan while making trips there.
"I had this idea going in my head, 'Hey, I'm going to Tokyo once a year, I might as well try to start getting in with people there,'" explains Sam, whose creations have been featured in Japanese ads for Toyota, Mitsubishi, Puma, Toshiba, Uber and BMW.
In a commercial for SK-II perfume, a Japanese cosmetics brand that Sam says is about as popular there as Maybelline cosmetics are in America, Primary Color's orchestral music creates a triumphant and uplifting mood as Japanese actress Haruka Ayase, whose popularity Dan likens to that of American actress Angelina Jolie, realizes the unshackling freedom of the perfume while racing toward an ocean cliffside.
It's probably safe to say that switching musical genres — from orchestral to an urban beat style to rock — is not easy to do for any composer.
"All of us kind of bring to the table slightly different styles," Sam says. "The really cool thing is every one of us is sort of a Renaissance man, and we all do tons of different styles. Before I added anybody I was doing heavy rock 'n' roll, super-pretty acoustic stuff, classical piano-type stuff. It was kind of all over the place. I added Dan and Ryan and they brought a few new things to the table. I added Josh (Atkinson) and Kosuke (Anamizu) and now we can basically do any style."
Although the team draws inspiration from each other, the brothers Billen are quick to jump back to their roots of growing up in a musical home with a heavy influence from their father, Bill Billen, who has spent a lifetime working in advertising. The two explain that for a stretch in the late '70s and '80s, before moving to Topeka, their father wrote jingles for companies in Oklahoma City.
While talking about the popularity of his jingles in a conference room in their East Lawrence studio, the two simultaneously launch into song, reciting the finale of a ditty their father wrote for United Technical Institute, which crescendos with the line "Put the future in our hands."
"It's 35 years later and still today, people in Oklahoma City can still tell you the phone number of that place," Dan says.
Looking into the future, Sam believes more and more of Primary Color's client book will be based out of Japan. Currently, he's working with the business support company JETRO, Japanese External Trade Organization, to set up a company branch in Tokyo.
But for now, music heard around the world will continue to get its start in Lawrence.