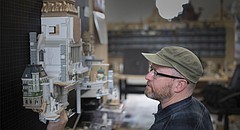 If you just look at the floor of artist Kris Kuksi's North Lawrence studio, the sight provides a pretty clear vision of the kind of disorder an energetic child could create if left unattended for hours. Action figures lie next to toy motorcycle parts while a disassembled space craft, a toy machine gun and the vertebrae from a miniature skeleton congregate near the steeple of a model church.
There are tote containers filled with parts of Matchbox cars, Pez dispensers and various figurines, some limbless, others headless. Speaking of heads, a plastic likeness of the late Hugh Hefner is one of many celebrity faces resting on or near his work station.
Although the studio is dusty and somewhat chaotic, all of the disarray comes to a halt when you set your eyes on his sculptures, which are pristinely and meticulously crafted, as evidenced by his new book, "Conquest," which was released in early October. The 192-page book covers Kuksi's work from 2010 through 2017, presenting the full works along with many detailed images in the subsequent pages that give a closer look at some of the figures and narratives within his installations.
"But not too close," adds Kuksi, because "searching the field of everything is part of the experience."
On Tuesday, Kuksi is methodically dabbing glue and positioning army figures within one of his latest installations, which features a model of a pillared bank as the central focus. On its top is an oversized spire that transforms it into a temple. On the platforms adjacent to the bank, various figures including samurai and army men keep guard.
"I can get very overwhelmed just looking at everything (in the studio) just thinking, 'my God, I've got to use everything,'" he says. "But that never happens. I guess I'm obsessively compulsive about balance, creating these chaotic moments, but it's all got to come together in a nice harmonic flow."
The piece currently commanding Kuksi's attention is a wall installation like many of the other works featured within his book. These typically involve hundreds, if not thousands of model pieces that all come together to create a dystopian fantasy often built around a central figure.
Another two-page spread gives four rotated views of his 6-foot-tall, mixed-media assemblage "Ferdinand von Howitzerhead," which is an elaborately adorned figure wearing samurai armor with a Howitzer tank cannon as a head.
Kuksi admits that much of his work is in some way biographical, even down to the little narratives that exist within or between some of the tiniest of figures in his pieces. He elaborates as he glues a small palette onto the head of a half-inch female figure.
"It's kind of my way of saying that we all carry these emotional baggage stories with us," he says.
Within his piece "Churchtank Type 14," which features a church steeple merged with a tank's turret, Kuksi's opinions of the effects of his Catholic upbringing are less mysterious.
"It's dark humor," he says of the piece. "A lot of it is just trying to rewrite history," he explains. "I think it's funny how we distort history through rewriting it. Everything dealing with history or religion is all a part of that, skewing the written word and the facts. I have a lot of fun making fun of that."
As for knowing when to stop gluing on more figures?
"I don't think I ever finish them, I just have to force myself to stop because either the deadline is there or the show is coming," he says. "I always think I'm going to remember the last part I put on a piece, like a little ceremonious end to it, but then I'll add like ten more parts and I'll totally forget."
Currently, Kuksi's show, "Hallucinatory Enhancements," is on exhibition at the Joshua Liner Gallery in New York until Nov. 11. "Conquest" can be purchased online.