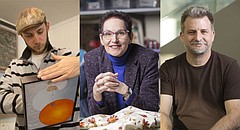 For the 22nd year, the city of Lawrence and the Lawrence Cultural Arts Commission will present Phoenix Awards to several local artists who have demonstrated exceptional achievement in their field or in promotion of the arts and arts education in Lawrence. The awards ceremony will be today at 2 p.m. at the Lawrence Arts Center. Here's a look at the 2017 award recipients — through the eyes of those who nominated them.
Visual Arts: Nicholas Ward, nominated by Lawrence artist Sara Taliaferro
For Taliaferro, nominating Ward for a visual arts category was as much about the kind of engagement that he pulls out of community members through his art as it was about his art itself.
"I really got to know him in 2014 when I joined the newly formed group called the U.S. Department of Arts and Culture," said Taliaferro, who referred to the organization as a "grass-roots arts and culture organization rooted in empathy." The organization is not funded by the government.
"He has a very creatively disarming sense of humor," Taliaferro said. "He has a way of framing things that allows people to either remain curious about the questions we are trying to answer as a group or helping people shift to a place where they are more curious."
Taliaferro lauds Ward for the diversity of his work, which includes 2D and 3D art, as well as poetry and songwriting. However, what has brought Ward the most attention is his work as a muralist and filmmaker with his documentary "Called to Walls." The documentary, released in 2016, covers the creation of several murals in various towns and the conversations and identity-searching that take place as each community examines its history and the important events influencing the murals.
"He seems to be most at home when he's working on some kind of collaborative project," Taliaferro said. "That sensibility is something that I can see in a lot of his art and a lot of his community work."
Design Arts: Jane Pennington, nominated by Theatre Lawrence executive director Mary Doveton
Whether talking about masterful Victorian England looks in "The Explorers Club" or imaginative underwater creatures in "The Little Mermaid," Theatre Lawrence executive director Mary Doveton has a difficult time deciding which of Jane Pennington's costume designs are her favorites. What she is sure of is that Theatre Lawrence wouldn't be the same without her.
"Oh my gosh, our shows wouldn't look nearly as good if we didn't have her talents," said Doveton. "She is just amazing."
Doveton said Pennington has designed costumes for 34 shows for Theatre Lawrence. She says it's Pennington's meticulous research and nimbleness while working with "picky directors, limited finances and actors who think they want to look good on stage whether it's in their character or not" that sets her work apart.
"When I was studying theater, one of the earliest definitions I learned was that costumes were scenery worn by the actors," Doveton said. "I think if anybody has ever had the ability to capture that, it would be Jane. She just does an amazing job of bringing shows to life with her costumes. We're just so happy to have her."
Pennington is currently working on costumes for "Beauty and the Beast," which opens Dec. 1.
Artist and Arts Administration: Steve Richardson, nominated by the Lawrence Arts Center staff and board of directors
If Lawrence Arts Center graphic designer Amy Albright were a basketball coach, she would probably give Steve Richardson the moniker "glue guy" due to his do-it-all ability at the Arts Center.
"Steve is just sort of this central person at the Arts Center who makes so many things happen," Albright said. "He's a quiet person, and he doesn't often get a lot of credit for all the amazing things that he does, but he does so much."
Richardson has been the facility maintenance manager at the Arts Center since 2002. But Albright said Richardson's reach goes well beyond caring for the building — he serves as a promoter for the overall health of the operation and arts in the community. Among Richardson's many contributions, Albright lists his involvement with the annual Art Tougeau parade, in which he has served as a board member since 2004.
"He's instrumental in all of the things that come into play for making the Art Tougeau parade happen every year," Albright said.
And by all things, she is referring to everything from coordinating lodging for art car owners from out of town to working with high school art teachers whose students design the trophies given away. He even makes the cardboard cars for children to wear while walking in the parade.
Albright added that Richardson, who is a capable sculptor in his own right, lends a hand to visiting artists working on their installations as well as to the young artists at the center's preschool.
"He is sort of at the heart of the place, and I don't know what we would do without him," Albright said.