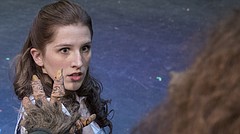 If you ask costumer Jane Pennington or set designer James Diemer, the most important reviews for the Theatre Lawrence production of Disney's "Beauty and the Beast" won't come from a grizzled theater critic. They're much more concerned about the younger members of the audience — particularly the ones who have seen the movie three dozen times and who have practically memorized every stitch of Belle's gold dress.
"They all know exactly what Belle looks like and what her ballgown looks like, and they are disappointed if that's not what they find when they come here," Pennington laughed. "That's the big challenge, at least for me, is to stay as close to the animated (movie) as possible."
But let this serve as a fair warning from Pennington to all the little sticklers for Disney accuracy: The wardrobe, otherwise known as Madame de La Grande Bouche, will appear quite different from the animated version.
"Also, our Cogsworth is 6-foot-7, so we're doing him as a grandfather clock," she added.
Although certain adjustments have been made, Pennington and Diemer are aiming to make sure spectators' smiles don't go belly-up when the stage lights come on.
One example of their painstaking labor is the amount of time and attention devoted solely to the making of Lumière's candle hands. For those who don't know, Lumière is the vivacious candelabra who serenades Belle with "Be Our Guest."
"Lumière's hands are a pretty serious challenge," Diemer said.
Diemer explained that the candles are equipped with wireless dimmers that he can control from his light board. Each is made from eight interlocking pieces that he made using a 3D printer. He estimates that the printing time alone for both candles was 48 hours.
"We had never tried anything like this before," said Mary Doveton, executive director at Theatre Lawrence. "They are doing such phenomenal stuff with it. They're incredible, just incredible."
"Beauty and the Beast" is among a handful of Disney musicals that Theatre Lawrence has staged in recent years. The theater closed out 2015 with "The Little Mermaid" and followed it up a year later with "Peter Pan."
"Disney really has a wonderful way of bringing stories to the stage that have such universal appeal," Doveton said. "Particularly around the holiday season when families are coming together, (Beauty and the Beast is) just a wonderful show to talk about love and people's goodness on the inside."
The show opens Friday and runs through Dec. 17. Evening performances begin at 7:30 p.m., and Sunday matinee performances begin at 2:30 p.m. The theater will host both matinee and evening performances on Dec. 9 and 16.