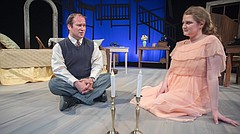 In a career that has spanned 50 years, Piet Knetsch has never directed the same play twice. Or, rather, he hadn't directed the same play twice until he approached Theatre Lawrence about "The Glass Menagerie."
"Frankly, as soon as I heard it was in the season, I immediately expressed interest to (Theatre Lawrence executive director Mary Doveton), because I love Tennessee Williams," Knetsch said.
With the upcoming opening of "The Glass Menagerie," Knetsch is also completing a trifecta of directing all of Williams' major successes for Theatre Lawrence — he's also been at the helm of productions of "A Streetcar Named Desire" and "Cat on a Hot Tin Roof."
"I'm sort of on a Tennessee Williams roll right now," he said. "I love his poetic language, I love his use of words and have always been drawn to him."
"The Glass Menagerie," which is set in an apartment in St. Louis in 1937, tells the story of the Wingfield family, which is led by single mother Amanda Wingfield, played by Sarah Young. Knetsch describes Amanda, who was abandoned by her husband as "fighting ardently for the well-being of her children, both of whom have significant issues." The play centers around the character of Laura, played by Nicole Putnam, who is Amanda's hopelessly shy and fragile daughter. She's isolated from the world because of the lasting effects of a childhood illness, and Amanda is desperate to find a suitor for her.
Tom Wingfield, Amanda's son, played by Christoph Cording, is a struggling writer employed at a shoe factory, who makes frequent departures to bars and movies to escape the unpleasant realities of his family and struggles with the guilt of his sister's lonely existence.
Of all the characters, it's the matriarch Amanda who Knetsch said draws him in the most.
"Clearly, the character of Amanda is so inviting and attractive to me because she is so complex and fascinating," Knetsch said. 'She is a strong person and a survivor who fights with everything she has to put bread on the table."
Because "The Glass Menagerie" is a "memory play," delivered from the viewpoint of the character of Tom, Knetsch and set designer James Diemer have taken steps to highlight the incomplete or fragmented nature of memories intended by Williams.
"In the very opening monologue, Tom, who serves as both the narrator and a character, says it's a memory play and it is not realistic," Knetsch said. "The scenery — while it creates a space and it creates a kind of an apartment, it in no way shape or form is realistic. It kind of calls attention to itself."
Beyond the memory aspect of the play, most people who've studied Williams' works, Knetsch included, believe that the play, which premiered in 1944, is largely an autobiographical sketch by Williams.
"Certainly, there is no question that Tennessee Williams drew upon his own family and that the mother has elements of his own mother," Knetsch said.
The character of Laura, likewise, was created in the likeness of Williams' sister Rose Williams. According to reports, Rose spent much of her life in mental institutions following a prefrontal lobotomy in 1943.
"Tennessee Williams never really overcame that," Knetsch said. "He always felt this incredible guilt that his sister experienced that."
Although guilt is a theme that stretches throughout the play, Knetsch also believes that the audience can also find inspiration in the characters and their struggles.
"I think one of the great challenges of this play is to not allow the character of Amanda to become nothing more than a shrill woman or a witch, to find that in her that which is admirable and understandable," he said. "There are so many things about the play that in the end are life-affirming."
"The Glass Menagerie" opens April 20th and runs through April 29. Evening performances begin at 7:30 p.m. and Sunday matinee performances begin at 2:30.