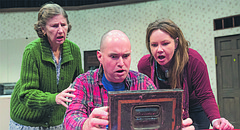 If you haven't already completely burst at the seams from the overwhelming portions of family drama during the recent string of holiday visits, Theatre Lawrence is set to plop another large helping onto your plate with its production of Tom Dudzick's comedy "Miracle on South Division Street," which opens Friday.
For this production, the theater company is stepping away from its recent lineup of musicals with large, brightly costumed casts dancing under spotlights. This comedy with a four-member cast portrays a blue-collar, Polish-American, Catholic family, the Nowaks, and is set within the kitchen of their run-down home on the east side of Buffalo, N.Y.
The Nowaks, who are led by the steadfastly pious matriarch Clara, played by Carole Ries, have been well-known for almost 70 years in Buffalo, mostly due to the lore of an alleged visitation by the Virgin Mary at Clara's father's barbershop in 1943. The bedrock of the family's idealized self-image is challenged in hilarious fashion as Clara's daughter Ruth, played by Hailey Gillespie, reveals her plans to write a one-person play uncovering the truth of the "visit" and the origins of a large shrine to the Virgin Mary her grandfather had created outside the barbershop.
"What got my attention, first of all, is that I was wanting to do a comedy," director Jack Wright said. "The play is about family, which I think is really relevant. They are a working-class family going through a lot of change and learning some stuff about themselves and their family's place in the community and what they thought was their world."
What also got Wright's attention was the range of emotions the characters experience as they navigate the multitude of bombshell moments that Ruth's investigation uncovers.
"It all happens in about 90 minutes, but in that 90 minutes, you go through a lot," Wright said. "You go through a lot of laughter, some tears and hopefully it will be very moving and heartwarming as well.
"I think that's what the play's real gem is," he continued. "You can relate to it because of your family and your family's secrets, so to speak."
The show runs this weekend and Jan. 25-28. Sunday matinee performances begin at 2:30 p.m., and all other shows begin at 7:30 p.m.