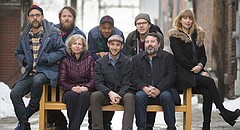 Most cities don't have up-to-date songbooks of all the wonderful music conceived and recorded within the confines of their city limits, but Lawrence soon will.
For about a year now, Lawrence artist Nicholas Ward, best known for his documentary "Called to Walls" and his efforts to engage the community through collaborative art projects, has enlisted the help of musicians, artists and other community leaders to assist him in creating his newest project, the "Lawrence Songbook." The songbook will be a fully-illustrated collection of notated music and lyrics from some of Lawrence's most prolific musical artists.
So, if your budding pianist has progressed well beyond "Mary Had a Little Lamb," he or she might be interested in the challenge of something from the locally grown catalog of singer-songwriter Suzannah Johannes; hip-hop artist Sean Hunt, a.k.a Approach; or folk artist Steve Mason of the Alferd Packer Memorial String Band, all three of whose works will be included in volume one of the songbook. As for the others involved, Ward and his collaborators are remaining somewhat tight-lipped but plan to release the names as the book nears publication.
According to Ward, the idea for the collection came from a shared curiosity between him and his friend Amber Hansen about the type of local music that people were listening to during a particular era of social upheaval.
"(We were) sitting around and we were wondering what kind of music was being created in Lawrence around the time that the Student Union was burned down (in 1970)," says Ward. "When we asked some people who were a little bit older than us who had been in the community longer, we weren't getting real concrete responses, and so we were like, 'Wouldn't it be great if there were some kind of legacy document, or a songbook?'"
Recognizing that opinions would vary about which pieces of music would be deemed worthy of inclusion in the book, Ward formed two panels. The first would nominate a greater list of songs for inclusion, and the second would whittle down the list to the final 12.
"The model is never going to be perfect, especially as one representative volume, but we wanted to make sure what we were selecting was across genre and across era," Ward said.
The established rules dictating eligibility were such that all of the musicians included had to have been from Lawrence or had to have made or recorded their music in Lawrence.
"It's Lawrence-centric, 100 percent," explained Ward, who added that even the illustrations in the book will be created by Lawrence artists — Adam Lott and Nicholas Stahl.
In addition to the public release of the songbook, Ward explained that all of the songs included will be performed during a March 2 Songbook Showcase at Liberty Hall. However, he said, not all of the songs will necessarily be performed by their composers.
Whether there is a second volume of the "Lawrence Songbook" will be determined by community support, said Ward, who is receiving support from the Lawrence Public Library and has also launched a campaign through the crowdfunding site ioby.org to pay for the songbook's production, art and all efforts to promote the project, including the Songbook Showcase event.
"My role in this as a co-imaginer of it and as the founder and director of the project is to carry it forward into its first iteration, to pilot and model the process," Ward said. "It's going to be contingent on public support."