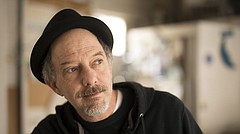 Even if you don't know who Dave Loewenstein is, it's highly likely that you've come across his murals, which often stretch the length of the walls of Lawrence parks, schools, buildings, passageways and elsewhere. What you may not be aware of is that there is a good chance that you've also seen his small-scale work, which might be inconspicuously stuck to the side of a newspaper box or wheat-pasted onto a wall. Other times, his work can be seen coming down your street in the hands of a protester demanding social justice.
Since 2011, Loewenstein has been creating what he calls "radical posters" for a collective of artists called Occuprint. The international collective, which derives its name from the Occupy movement that largely began with Occupy Wall Street in September of 2011, generates hundreds of posters in support of various movements.
Just as many of Loewenstein's murals celebrate communities and individuals rising up against adversity, his radical posters also aim to uplift those struggling for social justice.
One such example is his poster titled "Tip of the Iceberg," which pays tribute to those who camped at Zuccotti Park in 2011 during the Occupy Wall Street movement. The poster shows three brightly colored tents — small, cute, unintimidating and resting on top of a small island of ice revealed above water. Below the surface, however, the iceberg stretches deeply and sharply into the iconic raised fist, a symbol of solidarity and resistance.
With this piece, Loewenstein says, "I wanted to create an image that pointed to the fact that what was happening in Zuccotti Park was just a very small piece of a much larger movement. The image that came to mind was this idea of an iceberg. Those captains of industry, with all their hubris and confidence, might decide that they can sail right past that iceberg, when in fact it's much more dangerous than they realize, a la the Titanic.
"A lot of the things that I make are not intended to change people's minds who are, you could say, on the other side or who a group is trying to struggle against," he says. "A lot of the time, the things that I'm making are intended to support those that are working on that campaign."
In 2017, Loewenstein, responding to a call to action from the U.S. Department of Arts and Culture, which is not a federal agency but a "loose collective," as he describes it, created a series of three postcards inspired by Martin Luther King Jr.'s antiwar speech, "Beyond Vietnam: A Time to Break Silence." In the 1967 speech, King talks about the threat of the three institutions of racism, extreme materialism and militarism.
To visually personify King's words through art, Loewenstein says he went back to his time spent in Port Gibson and Greenville, Miss., where he was amazed by how kudzu, a rapidly growing vine, could transform the landscape. In the series, which he refers to as "Defunct Monuments," Loewenstein represents King's triplets of racism, materialism and militarism as three iconic statues of Robert E. Lee, the Wall Street "Charging Bull" and a tank, respectively. The power of the icons and what they represent is then disarmed, as he has illustrated them completely covered by kudzu.
Talking about time spent in the South and being aware of kudzu, he says, "In certain places it would consume man-made structures. Like, if you didn't cut it back or treat it, it would take down a car or a garage within a year or so. I was thinking about how nature does this, how nature takes things back to its whatever state."
Loewenstein said that work served as inspiration for an activist group of knitters known as the Kudzu Project, who are now knitting large, kudzu-patterned blankets and nets to be thrown over monuments to the Confederacy.
"I was bowled over," he says upon learning of the Kudzu Project. "I was like, this is amazing. They've done ten or so installations already."
And although Loewenstein is happy about the reach of his work when it promotes action by others, one general area he believes could stand for a revival is the area of public dialogue.
"I think it's really important, especially now, for people to use what I call the commons as a place to dialogue, to communicate, to argue, to advocate for things that they care about and questions they want to raise," he says. "I really think that this is a moment where that needs to happen more, especially where we are struggling with fundamental issues about the nature of our democracy and who is leading it."
As for his call to other artists?
"I don't think that all artists have to be activists by any means," he says. "But if you have that inclination, you're needed now. If not now, when?"
Loewenstein's radical posters, which were recently presented in his show "This is Not a Test," at the Lawrence Public Library will be on display at his studio, 411 E. Ninth Street, for Final Fridays from 5 to 9 p.m. on March 30. More of his work can be seen at daveloewenstein.com.