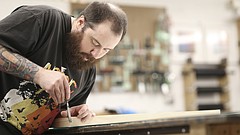 When artist Michael Benedetti first began exploring the idea of memories in his art, it was the summer of his third year of graduate school at the University of Georgia and he was taking measurements of everything in his apartment — everything from the space itself on down to his record collection.
"I went through (it), measured all the rooms, measured all the furniture, counted all the records, wrote down all the information about every record, counted all the books, measured all the books, wrote down all the information about the books and so on and so on," he says while describing his initial steps in exploring how our belongings shape our identity.
Such an exhausting effort was what he calls "the first kernel" that led into what is now a larger project he is continuing at the Lawrence Arts Center, where he is currently an artist-in-residence preparing for his upcoming show, "The Architecture of Memory." According to an Arts Center release, his work "focuses on identity and the abstraction of emotion through the use of architecture, modular components, and systematic image creation."
Artists' statements can get a little heavy at times, but Benedetti simplifies it.
On Wednesday, in both hands, he's holding two laser-cut patterns from pieces of plywood. Each is a model of a floor plan that represents one of the 13 different places he has lived in his life. The same miniature floor plans can be seen throughout his studio in the form of sketches and prints hanging on the wall. They are the basis for his architectural prints.
"(I'm) using squares and rectangles to describe certain years of my life," he explains. "I'm saying, 'Here's a rectangle. This represents millions and millions of decisions, interactions with people, material objects (and) all of these things are encapsulated just in this one square.' I think that's kind of interesting and I also think it's kind of absurd."
According to Ben Ahlvers, exhibition program director at the Lawrence Arts Center, who was among those who selected Benedetti for the residency, there was a moment while looking through Benedetti's submitted body of work that the autobiographical and personal nature of the work became apparent.
"It reads as architectural blueprint to me," Ahlvers says. "It has that vibe, but it's been abstracted, but still rooted in something that is real and specific to him. And then, (there is) that moment where you realize that oh … this guy's got every room he's ever lived in depicted on this one thing."
In the piece Ahlvers mentioned, Benedetti has combined all of the floor plans from his homes, apartments and dorm rooms from the three major cities he has lived in: Pittsburgh, Pa.; Syracuse, N.Y.; and Athens, Ga. All of the floor plans from each respective city are represented on individual sheets of semitranslucent vellum and then overlaid on top of each other in sequence.
The piece gives an appearance much the same as an architectural draft where multiple layers work to reveal a complete structure, or in Benedetti's case, the complete composite of all of his homes.
"I do believe that our surroundings and our environment, more specifically the buildings that we live in and work in day to day, really shape who we are specifically by informing our daily decisions," Benedetti says.
"Something as simple as where my bed is placed in the bedroom and how that affects how I navigate my apartment and those very basic decisions, I think, ultimately set the path for the rest of the day and then that continues and goes and goes and goes every day and every day. That subtlety of life is very interesting to me."
Benedetti's show will open on Friday, May 18, and it runs through June 23, with an artist talk at 7 p.m. Monday, May 21 at the Lawrence Arts Center, 940 New Hampshire St.