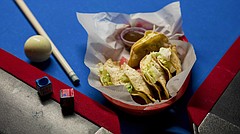 For this month's edition of Chef's Choice, I joined Greg Renck, owner of Terrebonne Po'Boys at 805 Vermont St., for the taco special at Crimson & Brews, 925 Iowa St.
Of course, it was a Tuesday, and yes, we were eating tacos. One thing we didn't do, however, is refer to our outing as "Taco Tuesday."
According to Crimson & Brews' 11-year owner Ryan Weekley, the term "Taco Tuesday" was used a couple of times in the early days of advertising for his bar and grill. After receiving a cease and desist letter from representatives of another restaurant, which owns the "Taco Tuesday" trademark, Weekley, not wanting to make a Supreme Court case of the matter, opted to quickly change the name of his special.
"Tacos On Tuesday. That's what we did," he says while laughing. His patrons don't seem to mind that the alliteration is slightly less succinct.
On to the tacos. By no means would I consider these to be a salad lover's taco. They are given a sprinkling of lettuce after the fact, but not before being deep fried. Also, probably not a taco for the health nuts out there, but certainly delicious, and "pretty much made from scratch," as Renck points out.
All told, the ingredients include taco-seasoned ground beef, a slice of American cheese and potatoes fried in a corn tortilla shell and then topped with lettuce and powdered white cheddar.
"The whole thing with the meat is fried in the shell," Renck says. "He puts some potatoes in them. It's the way I like them. It's the way my mom makes them."
"There's a significant and pleasant grease quality to them," he adds. "The powdered cheese kind of reminds me of Jack in the Box. It's a barbecue-style (thicker and a little sweeter) taco sauce."
The tacos are compact and can be taken down in probably four or five bites. Ordering five to six would probably do the job for anyone with an average appetite.
"I'm trying to watch my weight these days, so I'll probably just get a few, but in the past it would not be unusual for me to get into double figures," Renck says. "There were certainly nights where I would get a second round."
However many you decide to order, whether it be six, 10 or 12, just don't call it Taco Tuesday — unless you're planning to take your trademark lawyer friend out to lunch.